September 16th  is St Ninian's Day. But who was St Ninian? Nothing can be said with any certainty. He is reputedly a 4th or 5th century saint. Nothing was written about him until the 8th century when the Venerable Bede included 'traditional' information about him in his 'Ecclesiastical History of the English People' in about 731. Reference was made to Ninian being British, being instructed in Rome and sent to the UK (in around 397 according to the Catholic Church) to found a Christian community in south-west Scotland.
There is little doubt that there was an early Christian witness, at around that time in the region of modern Galloway, whether or not he was called Ninian. The missionary built a monastery of stone (unusual at that time) called the 'Candida Casa' – the White House. The name of Whithorn, where it was situated, derives from the name of the building. So long after the events it is not certain whether it was white because of the stone used or whether it was whitewashed. The complex of buildings which developed around the original chapel still remain.
These early saints were often credited with miracles and St Ninian was no exception. In about 1160 Abbot Aelred of Rievaulx Abbey in Yorkshire wrote a book 'The life of St Ninian' in which he records 10 miracles, 6 in his lifetime and 4 after his death. Whilst there is considerable uncertainty about the historical St Ninian, there certainly was an early missionary, often referred to as 'the Apostle to the Southern Picts', some 150 years before St Columba came to Iona.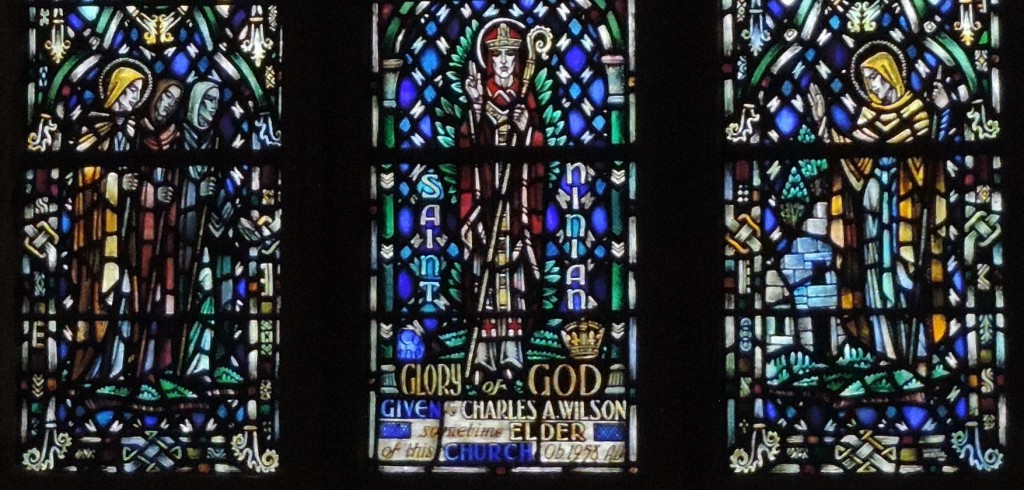 In the former East Kirk of St Nicholas there are three large stained glass windows in the apse. The right hand of these windows was installed in memory of Charles A Wilson who had been an elder for many years and had died in 1958. The bottom of each light of this window shows an aspect of St Ninian. This section of the window is shown in the photograph. On the left, St Ninian is seen with two of his followers setting out to preach the gospel to southern Picts. In the centre there is a representation of St Ninian robed as a Bishop, whilst to the right hand side, St Ninian stands in blessing, with the Candida Casa behind him. The window was designed by Gordon Webster.