Robert Gordon (1668-1731) was the only son of Arthur and Isabella Gordon and grandson of Robert Gordon of Straloch, an early Scottish cartographer. Arthur Gordon was a well-respected advocate in the Edinburgh Courts, but died when Robert was just 12 years old, leaving him 20,000 merks (worth about £1,100 at the time). When he reached the age of 16, he became a Burgess of the City of Aberdeen enabling him to become a merchant in the town. In 1689, at the age of 21, he graduated in Arts from Marischal College then left Aberdeen to travel around Europe, eventually settled in Danzig (now Gdansk in Poland). There he established a merchant trader business and over several decades was very successful and became sufficiently wealthy to make substantial donations to Marischal College and low-interest loans to Aberdeenshire landowners.
Exactly when he returned to Aberdeen as a very wealthy man is not recorded, but it was before 1720. A bachelor, he had no heirs so decided to found "a hospital for maintenance, aliment, entertainment and education of young boys" and started work on this just before his death (a 'hospital' was a boarding school). It was quite some time before the school actually opened. The building was completed in 1743, but before it opened was taken over by the Duke of Cumberland as a barracks for the Hanoverian troops sent to put down the Jacobite rising in 1746. It was not until 1750 that his wish finally came to fruition and the first students were admitted. Over time there have been two significant developments. It embraced secondary education and also became a day school in 1881, being known as Robert Gordon's College. Then, from 1903, it introduced technical subjects, many as night school classes. These professional and technical subjects, led eventually to the Robert Gordon University in 1992.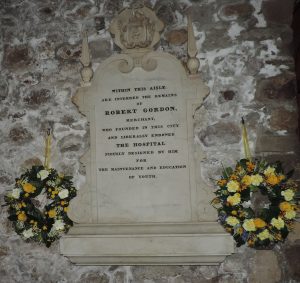 Robert Gordon himself is buried within the Kirk of St Nicholas, although exactly where is not known. However, the close proximity of Robert Gordon's College and the Kirk meant that there have been close links over the centuries. This has been recognised in the panel on the front of a section of the gallery in the West Kirk (shown in the photograph). The College continues to use the West Kirk for services. In 1934 the College held their first annual Founder's Day to celebrate their benefactor. Originally these were held in April, but in the year 2000, marking the 250th anniversary of the opening of the school, Founder's Day was moved to September. Each year there is a service in the Kirk of St Nicholas, this year on 21st September, during which pupils place wreaths on the memorial to Robert Gordon just inside the main south entrance to the Kirk. The photograph shows the memorial with the wreaths following Founder's Day last year.