A chauntry (sometimes spelt chantry) is the word used to describe an altar or chapel created for the chanting of Mass for the soul of the founder. Setting up a chauntry would also involve a financial endowment to remunerate the clergy. By the early 1400s, there were more than 30 such chauntries in the Kirk of St Nicholas. Indeed, this was one of the factors leading to plans to expand the building.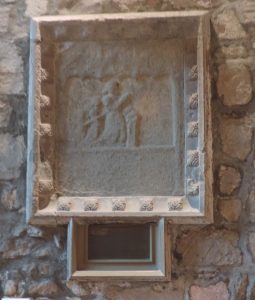 One of these chauntries, dedicated to St Laurence and St Ninian, was founded by William De Leith in 1356. St Laurence (born in 225) was one of the elders of the church in Rome who was martyred in 258 by Emperor Valerian as part of his purge of Christians. By contrast St Ninian is first mentioned in the 8th century as an early missionary to the Pictish peoples in Scotland. His major shrine is at Whithorn in Galloway.
On the west wall of Drum's Aisle is the plaque shown in the first photograph. It can be seen that parts of it appear to be quite badly worn, but it was part of that altar to St Laurence and St Ninian. The plaque has a richly sculptured stylised border. The central image shows a female figure with four children, some kneeling, and with what is probably an open book in front of them. To the right there may have been a cross, although this is now blank because it is reputed to have been defaced by Covenanters. Overall the scene probably represents a Mass taking place. The original altar was located in the extension to the south transept which William Leith had paid for that same year. This means that the original altar would have been near to where the main south door is today. The plaque was mounted on the west wall at the time of the rebuilding of the East Kirk in 1836.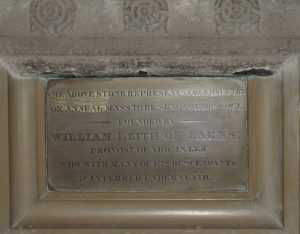 Underneath is a panel recording the origin of the larger plaque (second photograph), but these are now in a different place, so the relatives of William Leith are not under its present location as indicated on the panel.