The high four-pillared monument, the most prominent in the Kirkyard, which stands near the Union Street Gate, commemorates Robert Hamilton (1743-1829).  Made of granite, it was erected in 1843 by public subscription and was designed by the City Architect, John Smith, who some years previously, had designed the nearby screen and gateway.
Robert Hamilton had an interesting life having a variety of employments. Initially this was in banking, then industrial management, followed by school-mastering. In 1777 Robert Hamilton was appointed Professor of Natural Philosophy in Marischal College and later became Professor of Mathematics.  He wrote widely, including an influential work on the National Debt. This no doubt included references to his interest in the economic consequences of slavery, as well as the moral awareness which then played a larger part in economic argument than it does today. He made significant  contributions to the anti-slavery movement and was the first President of the Aberdeen Abolition Society a position he held until his death. He is still recognised in the City in the name of Hamilton Place.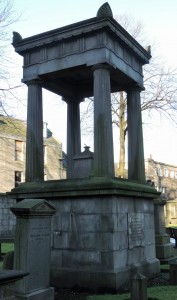 The first picture, above, was taken by our architect about 10 years ago when the memorial was in much better condition. The second shows it as it is today with the central urn missing – it can just be seen to the bottom left unturned behind the memorial to 'William Allen of Mileend', and some weeds growing. The inscription to Robert Hamilton is in Latin. The contrast between the photographs shows the need to undertake regular maintenance of these old structures, because decay can quickly set in.