As recounted in the New Testament the Angel Gabriel appeared to Mary to tell her that she was to give birth to a son. The church calls this 'the annunciation' and, not surprisingly, celebrates it 9 months before Christmas. Traditionally the Feast of the Annunciation is celebrated on 25th March although the date may be changed depending on when Easter occurs. The first chapter of St Luke's Gospel gives the fullest account of the annunciation. In it, the angel Gabriel appeared to Mary and told her that she was greatly blessed and would have a son – who would be called Jesus. Mary, who was engaged to be married to Joseph, found it difficult to comprehend, but in faith she was able to respond 'I am the Lord's servant, may it happen to me as you have said'. The story not only appears in the Bible, but a shorter version also appears in the Qur'an.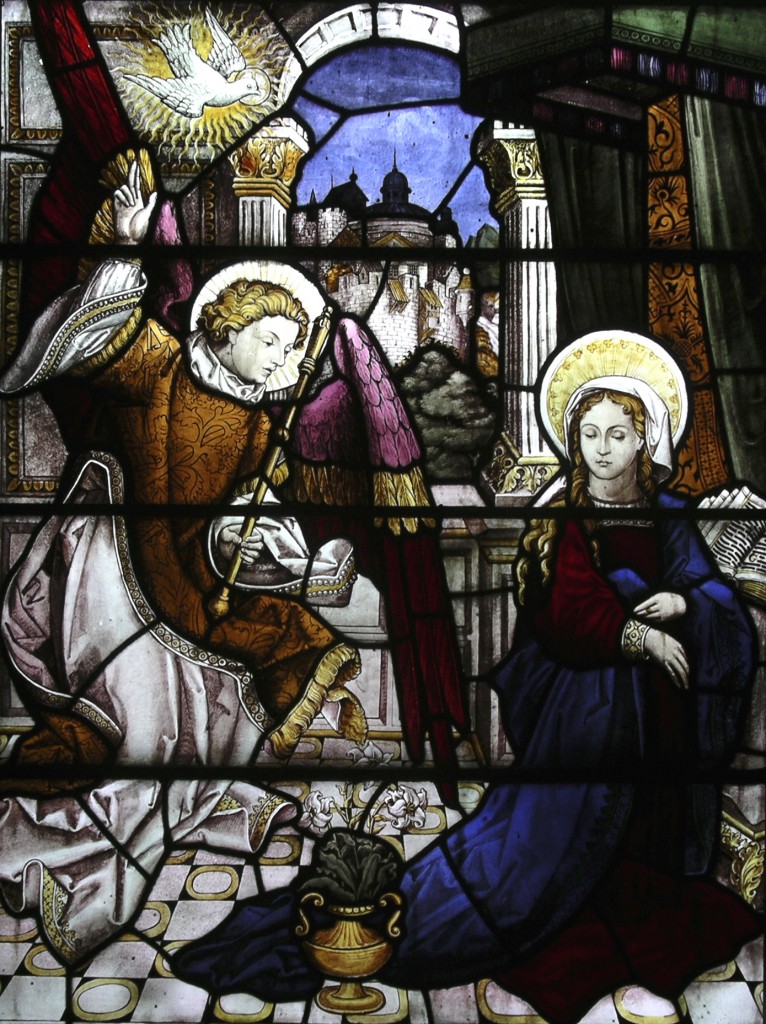 In the Christian church, the annunciation is important because it shows the human and the divine nature of Jesus. Many famous artists have attempted to depict the scene through the medium of paint. But it also features in many stained glass windows in churches – these windows were used to help teach Bible stories to those who could not read well. The picture with this article is part of a window in the West Kirk of St Nicholas which shows the annunciation. The window was made by the London firm of Burlison and Grylls and depicts five scenes from the life of Christ (including the nativity scene shown in the blog for Christmas 2014). In some depictions of the annunciation the Angel Gabriel is seen holding a white lily of purity. In this window, however, he is holding a sceptre – but the lilies are there, on the ground between Gabriel and Mary.
The photograph, which is copyright Aberdeen Art Gallery & Museums Collections, is used with permission.