St Margaret's Day is celebrated on 16th November, although in earlier times it was on 10th June.
Who was St Margaret? She was born Margaret Atheling in Hungary in 1046 and was a direct descendant of King Alfred and granddaughter of Edmund II (Edward Ironside) who had been king of England for about eight months in 1016. She and her brother Edgar and sister Christina were brought up under the care of the King of Hungary. Margaret and her family came to England towards the end of the reign of her great-uncle Edward the Confessor. The return may have been with a view to her father Edward Atheling being named as heir to the throne, but he died a few months later. Following the Norman Conquest the family were forced to flee, heading for the continent via Northumbria. However, their boat was battered by storms, blown off course and they eventually landed in Fife. The place, now called St Margaret's Hope, is just to the west of modern day North Queensferry. There they were welcomed by King Malcolm III (Malcolm Canmore) who looked after them. Indeed, a widower, he was greatly attracted to the beautiful Margaret, although she resisted his attention for a while, rejecting several proposals of marriage. However, Malcolm's persistence paid off and they were married in Dunfermline in 1069.
This proved to be a very happy marriage in many different ways. Margaret and Malcolm had eight children. Alexander and David followed their father to the Scottish throne, whilst their daughter, Edith (who changed her name to Matilda upon her marriage) married King Henry I of England. It is probable that King David build St Margaret's Chapel in Edinburgh Castle in honour of his mother.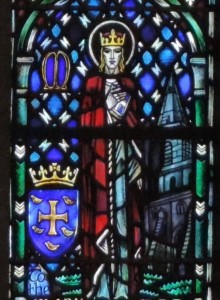 The first photograph shows a small section of the stained glass window in the apse of the former East Kirk and features St Margaret in the centre, with her coat of arms to the left and Dunfermline Abbey to the right. The Queen brought her early experience of life in Hungary with her and made changes to life in Scottish court circles. Under her influence, ceremonies became more elaborate, tapestries were used to adorn the walls, gold and silver tableware was introduced whilst fur and velvet were used in clothes, adorned with jewellery. She had a great moderating influence on her husband, and often gave advice on matters of state.
Margaret was also very devout, spending much of her time in prayer, devotional reading, and ecclesiastical embroidery. She rose each night to attend a midnight service. This inner devotion spread to her making reforms to the church bringing it more in line with continental practice. For example, she changed Mass to use Latin rather than the multitude of Gaelic dialects, Benedictine monks were invited to found an Abbey at Dunfermline in 1072 and she promoted Easter communion. Pilgrimage was seen as being important. Margaret was fond of the old Scottish saints and she encouraged pilgrimage particularly to St Andrews by instigating ferries across the Firth of Forth, one at North Berwick, the other at Queensferry – named in her honour.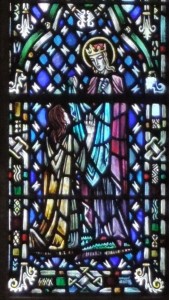 The second part of the window depicts how St Margaret's piety worked out in her charitable works. She would serve orphans and the poor each day before she ate, including washing their feet in imitation of Christ. She founded hostels for the poor, tended the sick and held feasts in Advent and Lent for as many as three hundred commoners. In recognition of her life Pope Innocent IV issued a Papal Bull in 1249 declaring her a saint in the Catholic Church.
The account of her death will be recorded in the next Blog which will also say a little more about Malcolm Canmore.