In the transept between the West Kirk and the former East Kirk a small chapel was created in 1990 to commemorate the first 25 years of the North Sea oil industry. Officially it is known as St John's Chapel, although it is usually referred to as the Oil Chapel.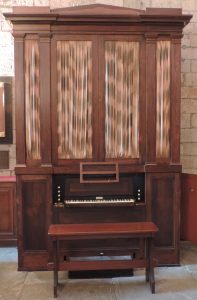 To allow the chapel to be used for services a small chamber organ was obtained. This was originally built by the firm of Bewsher and Fleetwood of Liverpool in 1825 for a house near Kirkmichael in Perthshire. It was rebuilt and restored in 1990 by organ builder Sandy Edmonstone. It is a small instrument, shown in the first photograph and has only seven stops played from a single manual. The pipes are in the upper part of the case. The second photograph shows the front open to display the pipes, with a close-up of some of them. The different lengths of pipes, to produce different pitches, can be clearly seen.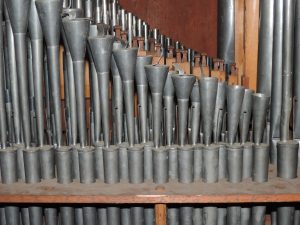 Many instruments built since the introduction of electricity, use some form of electrical transmission to link the manual to the individual pipe to be sounded. Typically, an electrical contact is activated by the depression of the key on the manual. The electrical signal is transmitted to a solenoid below the pipe which opens a valve to allow aid to enter the pipe and make the sound. However, with older instruments, before electricity, this was not possible. Instead a mechanical link was used – called a 'tracker action'. When the key is pressed on the manual a series of links, made of wood, metal or wire, connects through to the individual pipe and operates the valve. Obviously the manual and the pipe have to be fairly close together and there are mechanisms for 'adding' different 'stops' to allow more than one pipe to be sounded from the one key.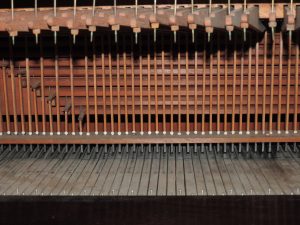 Sometimes the detailed mechanics can be quite complicated. The final photograph of the organ shows some of the mechanism inside the case below the pipes and behind the manual (the lowest level horizontal wood are the backward extension of the keys). As mentioned in the blog on 14 October about the West Kirk organ, the instrument of 1880 had a tracker action until it was expanded and rebuilt in 1927.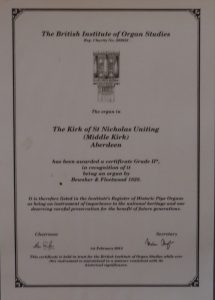 The British Institute of Organ Studies has undertaken a system of recognising historic instruments. This instrument was awarded a certificate of Grade II* in 1997 – certificate shown in the last photograph. The grading indicates 'an important organ of more than special interest'.