We are showing two other photographs in this post featuring different mason marks, so they belong to two different people.
The first photograph shows a mark almost like a stylised fish. Similar marks are recorded in a number of buildings in Scotland, including Glamis Castle and St Machar's Cathedral in Aberdeen.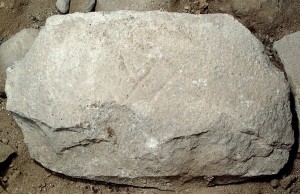 The mason mark in the second photograph is like a capital W with a vertical line from the centre. Quite a number of variations on this shape can be found, but it seems that this one is found in the Old Bridge of Dee and St Machar's Cathedral in Aberdeen as well as further afield.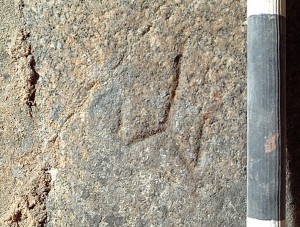 There are a number of people who study these mason marks. One such study is being made in the northeast of Scotland lead by Moira Greig. There is a fascinating website (http://www.masonsmarkproject.org.uk/) which explains the study, demonstrates the wide range of marks and gives pointers where to find them. If you are interested it is well work a visit.
Should you wish to try to find mason marks yourself, it is best to use a source of light shining across the surface of the stone, as the marks can be difficult to see at first!
The photographs are copyright Aberdeen Art Gallery & Museums Collections and are used with permission.