John Fendour was a master wood carver of Flemish origin. Around 1500 he was renowned as one of the best wood carvers in the world. Aberdeen is fortunate that he was active at two churches – King's College Chapel and St Nicholas Church. According to the records of the day, it was in 1495 that John Fendour was employed to work on the building work involved in expanding St Nicholas Church to make it one of the largest parish churches in Scotland. Initially he worked on the ceiling. Whilst the building was dedicated in 1498, the ceiling was not finally finished until 1515. In the intervening years he also worked on the choir stalls and he was also working on King's College Chapel and Falkland Palace in Fife. Unfortunately, the east end of the building was  demolished in 1835 to make way for the present building. As a result, the ceiling and most of the woodwork was lost. However  a few years before it was demolished the ceiling was described as a 'timber wagon roof, decorated with slender cross ribs, foliate sprays and an ornamental cornice'. John Fendour was commissioned to work on King's College when building work started there in 1500. It is, therefore, not surprising that scholarship has established that the work at King's College and St Nicholas Church were of a similar style, and indeed were influenced by styles used in a number of churches in the Netherlands. Thus, whilst we cannot know exactly what the stalls and ceiling in St Nicholas Church looked like, surviving pieces of the former and drawings of the latter together with those still visible in King's College Chapel give a good indication of their appearance.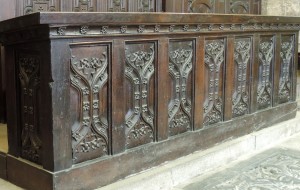 The most substantial part of John Fendour's work surviving in St Nicholas Church is the long desk at the west end of St Mary's Chapel  (shown in the first photograph) with seven panels on the front and one on either end.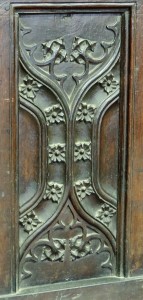 One similar panel has been incorporated in a Victorian reading desk and others in furniture made for the 1937 refurbishment of the East Church. Upper parts of the choir stalls are in the National Museum of Scotland. Other panels were incorporated into the Deacon Convener's Chair of the Incorporated Trades of Aberdeen. The second photographs shows one of the panels in closer detail. The carving was carried out in 1508.