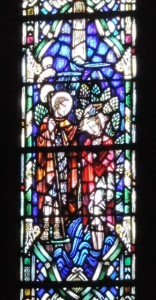 In many churches, on a Sunday in early January, one of the Bible readings will have drawn attention to the baptism of Jesus by John the Baptist.  That is the happening depicted here in a stained glass panel from the centre of the south-east window in the apse of St Nicholas' Kirk.  We see the Baptist pouring water on Jesus who stands in the river Jordan.  The white lines above suggest the coming of the Spirit.  In contrast to the birth of Jesus recounted (in quite different terms) by only two of the Gospels, all four Gospels draw attention to his baptism as the fundamental event for his mission and ministry in the world.  Here his character as Son of God is declared and at the same time he is identified with sinful humanity.  This is his epiphany or manifestation to the world to which the Spirit bears witness.
For Christians, their baptism marks their incorporation into the Church, often described as the Body of Christ, and testifies to the cleansing power of the love of God.
The window, erected in 1961, was the gift of, and commemorates, Charles A. Wilson, son, and successor in business of George Washington Wilson, the notable Aberdeen photographer of the Victorian era.
The maker was Gordon M. Webster, highly regarded and prolific Scottish stained glass artist of the mid 20th century. It may be of interest of some to know that, later in the century his son was for a period Professor of Architecture in the Scott Sutherland School of the Robert Gordon University.
The window was cleaned and repaired as necessary during the Phase 1 works in 2010-11 by Christian Shaw of Edinburgh.