One of the most noticeable features in St Mary's Chapel is the carved wood panels around the walls – the largest such assemblage in the country.  Previously we have featured the wood from the choir stalls (by John Fendour in 1508) and the panel for Provost Alexander Rutherford (dated 1606). Around the walls are dozens of wood panels of different size and complexity of carving. Some panels are dated, the earliest being 1601 and the latest being 1677. Where did they come from?
After the Reformation, for which 1560 was the decisive year in Scotland, sermons became a more central and lengthy feature of worship.  Seating, which was unusual in the middle ages, became very desirable.  Wealthy people and public bodies began to be given permission to erect 'desks' or 'lofts' with seating, while the less well-to-do and women had to stand, or bring their own stools.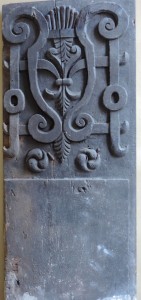 People who had gone to the extent of paying to build a desk wished to mark it as theirs by having the ends, the seat backs, or the gallery breasts carved with a name, family crest, trade symbol or some other identifying motif. Some of these were quite elaborate, were often coloured, and display the skilled craftsmanship available locally. The first photographs show the outside and inside of one of these panels, the latter carved in the upper part, and the ledge for the seat to rest on.
When the churches 'upstairs' were changed, the carved wood was no longer required for its original purpose. Some was transferred to Greyfriars Church, some was auctioned and some was stored and later incorporated into the pews built in St Mary's Chapel. The picture of the Chapel (taken from an old photograph) from the apse end, is from the later 1800s and shows the carved wood as used in this way.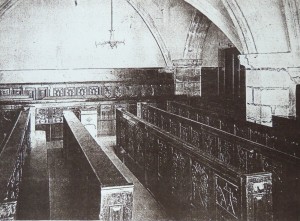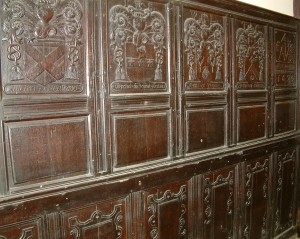 During the 1890s, it was decided to restructure the interior of St Mary's Chapel, the work being completed in 1898. It was felt that the existing arrangement did not do justice to the quality and interest of the wood, so the panels were arranged round the walls in their present day positions. The next photograph is of an area of wall in the north aisle, although unfortunately this wood had to be removed due to outbreaks of dry rot. It is currently stored in a specially built rack to prevent it warping as the building dries out as shown in the final photograph.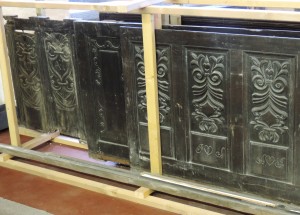 Several articles have been written about this woodwork, to interpret its meaning and identify those to whom it relates, but much remains to be done. We hope to be able to provide more detail in the future.