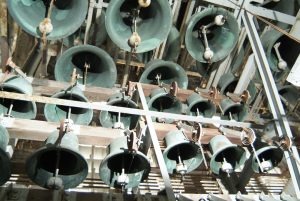 By 1952 the carillon in the Kirk of St Nicholas had been used very sparingly for the previous 50 years or more. Things were about to change. That year Queen Elizabeth acceded to the throne and the City Council decided that the bells should be recast so that they could be used properly. Accordingly Messrs. Gillett and Johnston of Croydon were given the contract. During the process, the composition of the metal was corrected. Back in the spire, the old wooden frame for the bells was replaced by a steel framework. The bells were rehung later in 1952 and dedicated on 31st October 1952 at which ceremony a recital was given by Clifford Ball, Carillonneur at Bournemouth. A magnificent sound was heard demonstrating that the recasting had been successful. A plaque in Drum's Aisle records the recasting.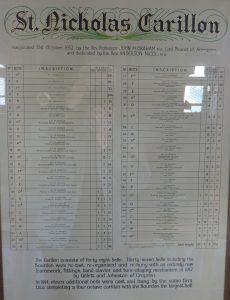 So popular was the new sound that in 1954 the Council decided to add a further 11 bells to the carillon, also made by Gillett and Johnston. These were dedicated on 17th September 1954 and Clifford Ball again gave a recital. One of the photographs is of a framed list giving details of each of the bells, which together have a 4-octave range. It is the largest carillon in the United Kingdom (along with one other). Some of the bells, which are a floor above the actual carillon (where the louvres are in the tower), have two clappers. This is to allow the bells to be used with the clock. The Westminster Chime is normally sounded every quarter of an hour, the clock activating the mechanism which is operated by compressed air. There is also a mechanism which would allow automatic playing of some music through something like a large musical box with metal pins (shown in photograph).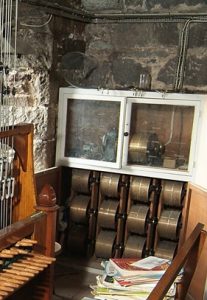 Since the recast bells were installed, there has been a City Carillonneur. The present incumbent is Ronnie Leith, who gives recitals at various times. Most common is before worship on a Sunday morning, but also through the week, especially in summer.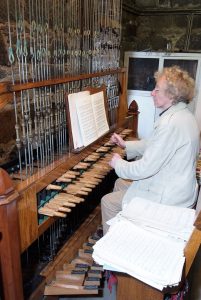 The previous posts about the bells were on 12th March and 9th April 2016.