Recently a diseased tree was removed from just inside the Back Wynd gate into St Nicholas Kirkyard. As a result a number of gravestone have become much more visible than they were previously. An elaborate one on the wall will be shown at a later date, but whilst photographing it, another memorial was noticed almost hidden at ground level, and partly covered by the sawdust from the tree removal. One of the people interred there is a significant person in the life of the city of Aberdeen and, indeed, his town 'lodgings' are in the news at the moment as well.
He is Sir George Skene of Fintray and Rubislaw, better known as Provost Skene, whose 'house' is being surrounded by the new Marischal Square development, and which is to house a new museum celebrating famous Aberdonians over the centuries. Provost Skene's House is quite close to the former East Kirk which will complement with the stories of the development of Aberdeen – its buildings and people.
George Skene was born in 1619 at the Mill of Potterton in Aberdeenshire. His father died when he was just 12 years old and his half-brother arranged for him to be apprenticed to George Aedie who had strong trading connections with Danzig (modern day Gdansk, Poland) in the Baltic. Living there, he proved to be a very able trader and became a wealthy man. He returned to Aberdeen in 1665, then aged 36, and the following year purchased the Wester Fintray estate (near Kintore) with some of the money he had made. Three years later, in 1669, he purchased a mansion on Guestrow – now known as Provost Skene's House. The house had been built in 1545 and has a fascinating history. Not only was George Skene a significant trader, he also became involved in the civic life of the area becoming Provost of Aberdeen in 1676, a position he held until 1685. During this time he used the house on Guestrow as his town 'lodging'. He was also a benefactor of King's College and the University of Aberdeen in general. He was knighted in 1861 by James, Duke of York (later James VII of Scotland). After 'retiring' as Provost, he bought the house and estate of Rubislaw in 1687 and used this as his main residence. George Skene never married, but supported his brother's children. However, his nephews disappointed him, so much of his wealth was passed to his niece's sons and his property to the family of his former employer. When he died on 9th April in 1707, aged 88 years, he also left 1,000 merks to the Kirk Session of St Nicholas to be used for the poor of the parish. A merk was worth 13 shillings and 4 pence, that is two thirds of a Scots Pound.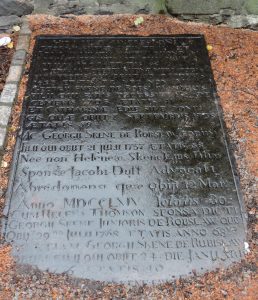 Because of its position, it is very difficult to photograph George Skene's tombstone properly, and it has many other people listed on it. The two photographs show the whole stone (just inside the Kirkyard to the Union Street side the Back Wynd gate) and a closer view of the part of the inscription about George Skene taken when there was a low morning sun.