In the former East Kirk there is a beautiful 'arts and crafts' stained glass window featuring the 'three graces' of Faith, Hope and Charity. This blog completes the explanation of the tryptic.
The definition of the word 'hope' indicates that it is an expectation and desire of receiving something good. Conversely, hope can be refraining from despair and not giving up. It is not about certainty, but about an assurance that something is likely – it is not wishful thinking. For a Christian, hope is clearly based on the belief that God's word and His purpose in their life can be trusted. Thus, hope gives a Christian a foundation for their life, to avoid despair and cynicism and to strive for good. It becomes something which they 'hold on to' through thick and thin, trusting in God's promises. This meaning of hope is different to the secular meaning of 'I hope it happens' because it is not wishful thinking.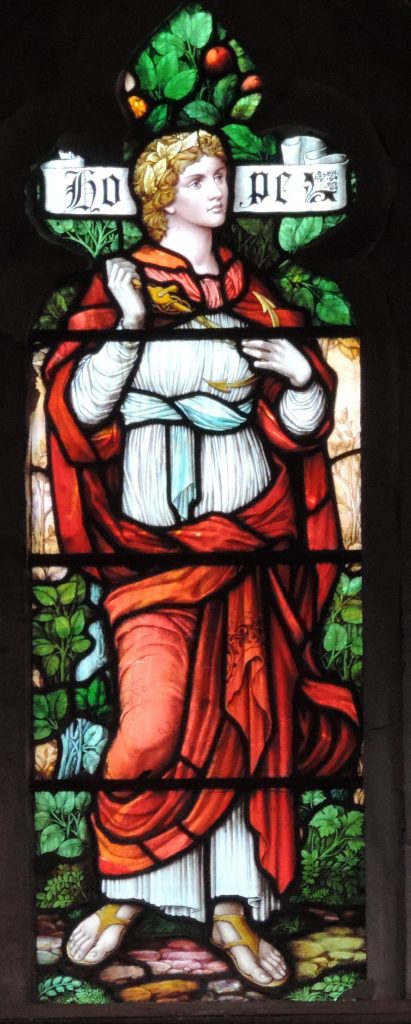 How can artists represent this? They have used a number of different symbols, including a harp, a flaming brand, an anchor, a palm frond, or hands with fingers closed together. In this window, the unknown artist has used an anchor, which Faith holds across her chest.
Discussion of Love (Charity) was put on the Blog for Valentine's Day on 14th February 2016 and Faith on 3rd August 2016, where some of the background to the window was included. Finally a photograph of the whole window is shown here, so that the three figures can be seen in context. At present it is not possible to see the window, but it will be a feature on the ground floor of the completed Mither Kirk Project.