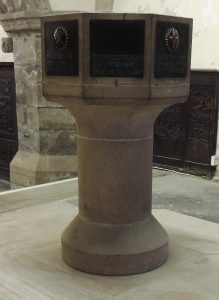 The font in St Mary's Chapel was made as part of the reordering of the chapel in 1898. The octagonal stone structure stands in the north aisle. It was erected in memory of Annie Margaret, Robert James and Emily Lisette, children of Robert Spottiswood Farquhar Spottiswood of Muiresk and was dedicated on 1st October 1898.
Around the top of the font are eight metal panels, four of which feature enamel symbols related to baptism. These were created by the distinguished Aberdeen enamellist James Cromar Watt. He was born in Aberdeen on 14th July 1862, went to Aberdeen Grammar School and then qualified as an architect. However, through a number of study tours he gradually moved into working in art and sculpture, especially using metal and enamel. His style embraced the Arts and Craft movement and was influenced by people such as Phoebe Traquair and fellow Aberdonian Douglas Strachan. He lived, as a bachelor, at 71 Dee Street where there is a plaque to him. He died in an accident on 19th November 1940. During his life he created many pieces of enamelled jewellery. Enamel is made by fusing powdered glass to a metal substrate at temperatures between 750-850ºC. The glass melts, flows and then hardens to a smooth durable vitreous coating of the metal. The photographs show the four medallions on the font. In order these are:
A dove, the symbol of the Holy Spirit which came to Jesus at his baptism.
The combined Greek letters chi and rho (C R) which are the first two letters of 'Christ' in Greek.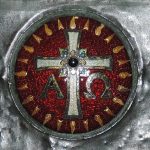 A cross with the Greek letters alpha and omega (A W), the First and the Last.
Stylised Greek letters iota, eta and sigma (I H S) which are the first three letters of 'Jesus'.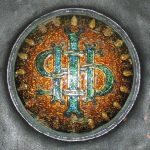 The table in the Chapel, also created in 1898, has two larger panels of enamel work by James Cromar Watt. These feature coats of arms related to Lady Elizabeth Gordon, reputedly the founder of the Chapel and her ill-fated descendant Sir John Gordon.