Friday 6th July 2018 marks the 30th anniversary of the Piper Alpha disaster. On that fateful night the Piper Alpha rig exploded and caught fire killing a total of 167 men. No-one who was in Aberdeen at the time will forget that day nor the subsequent days. It is fitting that various memorials have been created for those who lost their lives. The Piper Alpha Memorial Garden is in Hazlehead Park where an Act of Remembrance will take place at 7 pm on 6th July. There is also a beautiful Piper Alpha memorial window in Ferryhill Parish Church.
At the time of the disaster the 'Oil Chapel' was being planned by the oil industry to mark the first 25 years of North Sea oil. This is in the Kirk of St Nicholas and naturally its design was influenced by these events. In particular the furniture, designed and built by Borders craftsman Tim Stead, features strips of native Scottish trees, the initials of which spell out 'We Remember Yew'. This can be seen, for example, in the backs of the chairs (first photograph). Also in the Oil Chapel is a desk housing a book with the names of all those who lost their life. This is shown in the second photograph. The Chapel can be visited any weekday afternoon (between 12 noon and 4 pm) until the end of September in the Kirk of St Nicholas – entry by the main door facing Union Street.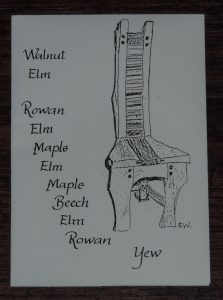 Also available is a notelet showing a chair, as shown in the third photograph. In the chapel's stained glass window there are red (oil) and green (gas) 'lenses' representing various fields in the North Sea. There is also one clear glass lens commemorating the Piper Alpha field.
We will remember them.