Compared with many other important cities, printing came late to Aberdeen, and then through an Englishman. The place and date of the birth of Edward Raban are not known, but might have been in Gloucester or Worcestershire. He was a soldier, fighting against Spanish occupation in the Low Countries for a decade in the early 1600s and is known to have stayed on in Leiden around 1617-19 when he learned the printing trade.
He started as a printer in Edinburgh in 1620 and in the same year opened a shop in St Andrews. He was enticed to move to Aberdeen in 1622 by two notables – Sir Paul Menzies and Bishop Patrick Forbes. He set up a printing office on the north side of Castle Street, where he also lived, and was appointed as printer to the City and University. The City Council paid him a salary of £40 (Scots) per annum – and charged him the same amount as rent for his premises! He was particularly industrious, producing about 150 publications in about 27 years with, as far as can be told, only one assistant. All this was, of course, long before any mechanisation. Much of this output was for the University and the City, but in 1623 he produced his 'Prognostication' or Almanac, a collection of writing about the preceding year. This continued annually and became the Aberdeen Almanac which records a wide range of information.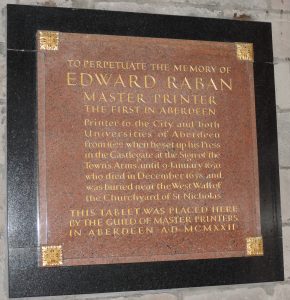 Edward Raban retired in 1649 and died in 1658, being buried near the west wall of St Nicholas Kirkyard on 6th December that year. The exact position is not known, but there is a memorial plaque to him in Drum's Aisle of the Kirk of St Nicholas, as shown in the accompanying photograph. It was erected in 1922 by the Guild of Master Printers in Aberdeen to mark the three hundredth anniversary of the start of his business.